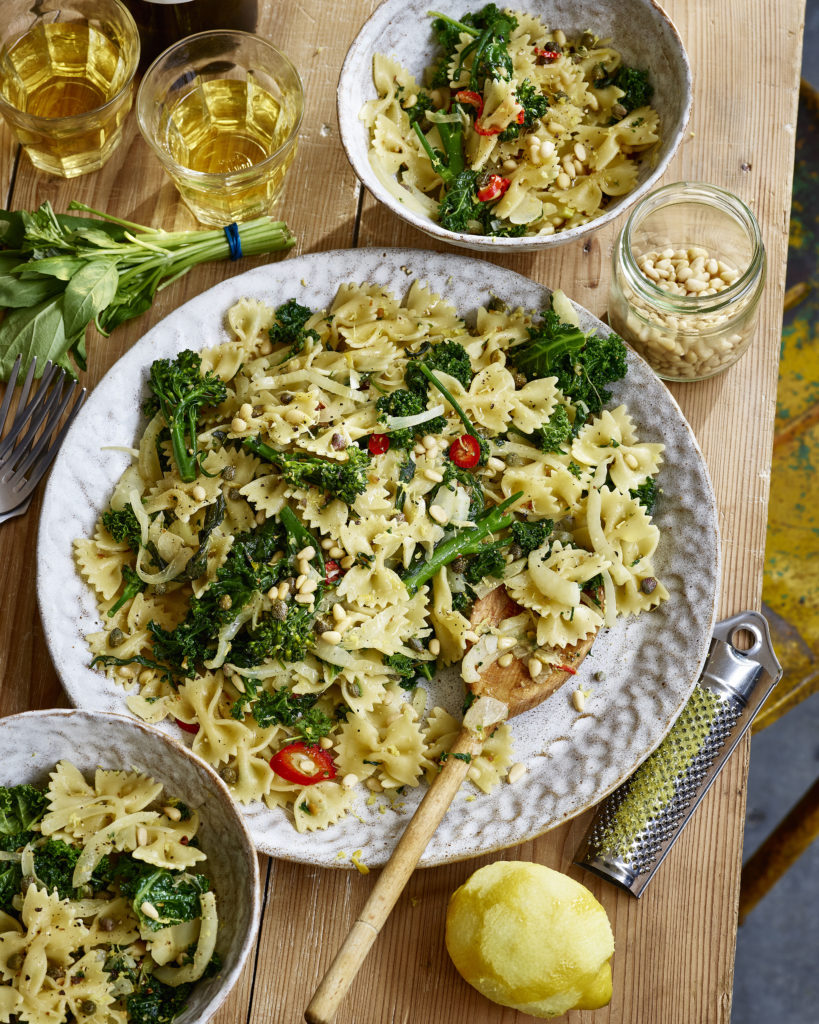 One of the best vegan pasta dishes I have ever eaten!
Ingredients
2 Shallots, sliced fine
4 Cloves Garlic, sliced fine
1 Red Chilli, chopped small
1 Punnet Tender-stem Broccoli, trimmed and cut small
2 big Handfuls Kale, stem removed & torn into chunks 
1 Bulb Fennel, sliced fine
1/2 cup/120ml White Wine
Dressing
Zest of 1 Lemon
2 tbs Capers
Handful Parsley
Handful Basil
Handful Pine Nuts
4 tbs Extra Virgin Olive Oil
1 tsp Sea Salt
2 tsp Black Pepper
Pasta
300g Farfalle Pasta
1 cup Pasta Water, reserved for sauce (see video below)
Get your pasta cooking to the packet instructions.
Meanwhile pre heat a large non stick pan over a medium heat & add a touch of oil.
Add the onion, chilli & garlic and sauté for a couple minutes.
Add the kale, tender-stem & fennel.
Meanwhile to a blender and the dressing ingredients and blitz the mixture until it's pureed. Add the dressing to the pan & sauté for a couple minutes before deglazing the pan with the white wine & some a ladle of the pasta cooking water. Turn the heat down low & let the sauce cook away for a couple of minutes.
Once your pasta is cooked, drain away the water and add it to the sauce, toss & stir the pasta until it's coated in all the lovely flavours.
Serve your pasta right away with an extra bit of lemon juice and zest.
Share this recipe