Vegan NYC style baked cheesecake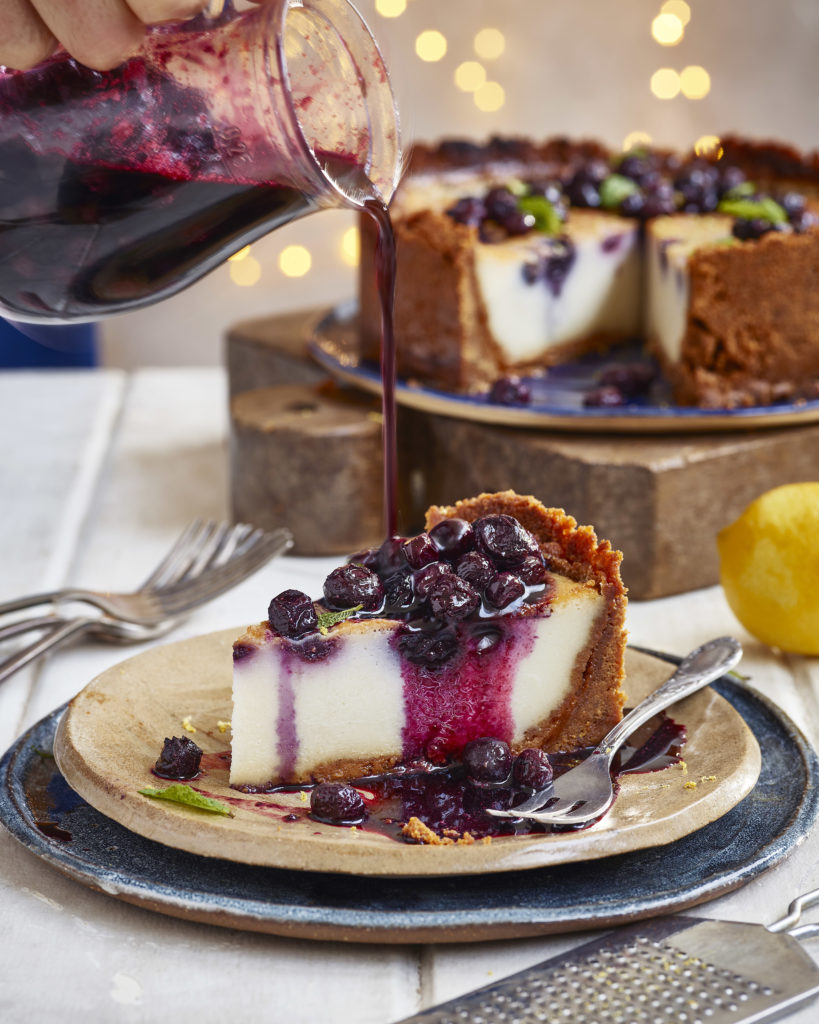 Ingredients
Base
400g/14.11oz Lotus Biscoff Biscuits 
3/4 cup/185g Vegan Butter, melted
Filling
1/2 cup/65g Almond Flour 
1 & 1/3 cups/360g Vegan Cream Cheese (I used a shop-bought coconut-based cream cheese)
400ml Sproud Pea Milk or creamy non-dairy milk of your choice  
1 cup/200g Unrefined Caster Sugar
5 tbs Plain Flour
5 tbs Cornstarch
1 tbs Vanilla Extract 
1/2 cup/95g frozen blueberries 
Blueberry Dressing 
1 & 1/2 cups/285g Frozen Blueberries
1/2 cup/100g Caster Sugar 
Splash of Water 
Pinch Ground Ginger
Pinch Ground Cinnamon 
Garnish
Mint
Pre heat the oven to 170 degrees C. Lightly grease a loose-bottom sealed cake tin (9inch/23cm in diameter & 3/4inch/10cm deep).
First make the base. Blitz the biscoff biscuits in a blender until they're a fine crumb. Keep blending and add the melted butter.
Tip the biscuit mixture into the greased cake tin and use a spoon to press the mixture to form an even biscuit layer in the base and up the sides.
Place the tin into your oven to bake for 10 minutes.
Meanwhile make the filling, clean out your blender and add all the filling ingredients except the blueberries. Blitz the mixture for a minute or so or until completely smooth.
Once the base has baked, pour the filling mixture in.
Fill a deep baking tray with warm water around 1-2inches high then place the cake tin into it. NB if you are using a cake tin that isn't sealed you must wrap the bottom of the tin with foil to stop any water from getting in.
Carefully transfer the tray to the middle shelf of your oven to bake for 1 hour.
Meanwhile to make the blueberry sauce add all the ingredients to a small saucepan and bring to a simmer over a low heat for 10 minutes. Once the sauce has thickened and almost a syrup-like consistency. Remove it from the heat and set it aside to cool.
After an hour of cooking the cheesecake remove it from the oven & the tray & let it cool completely. Resist the temptation of cutting the cake before it has properly cooled as it sets completely whilst it is cooling.
Once the cheesecake has cooled completely, serve with the blueberry sauce.
The cheesecake will keep fresh for 5 days in the refrigerator.
Share this recipe