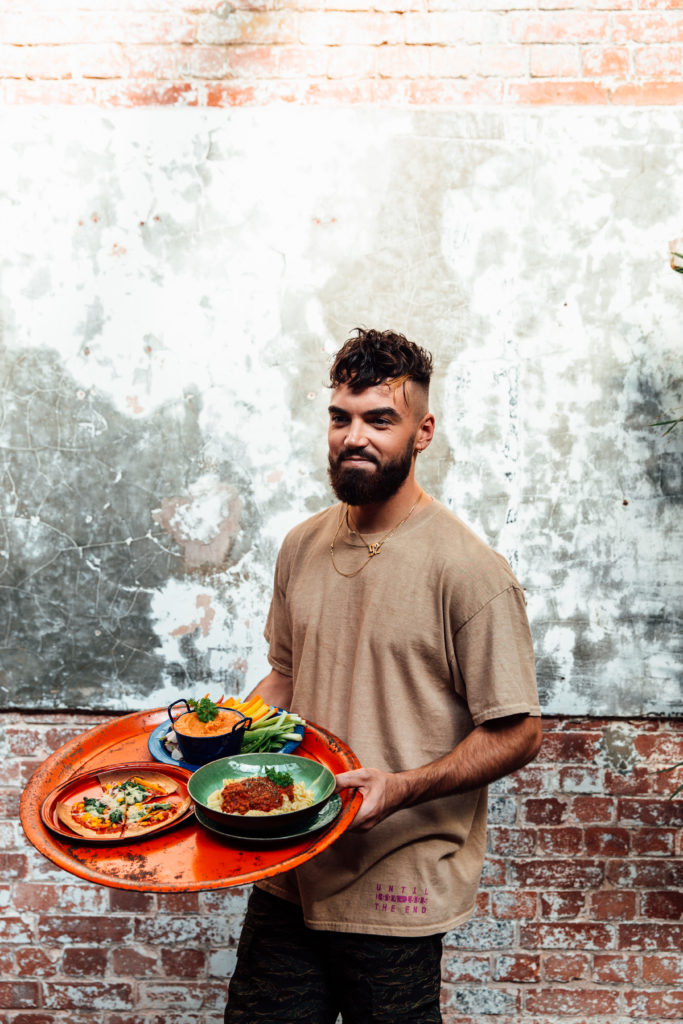 I show you how to make vegan children's meals. Super tasty, easy to make & healthy vegan food for children. These vegan recipes are low in salt, high in nutrients whilst being exciting & flavoursome.
Ingredients
Quick Kids Bolognese 
Ingredients (makes 6 children's portions)
1 Onion
2 Sticks Celery
1 Carrot
1 Punnet of Button Mushrooms
1 tsp Miso Paste
1 tsp Black Pepper
1 Large Jar Passata or 2 cans of Chopped Tomatoes 
1 tbs Tomato Puree
1 tin Lentils, drained.
Serve with 
Pasta or Rice 
Tortilla Pizza 
Ingredients (To make approximately 6 pizzas)
6 Tortillas
1 cup Passata, or tomato sauce.
Handful Sliced Mixed Peppers
Handful Sweetcorn
1 Red Onion Sliced
Handful Spinach
1 cup Vegan Cheese 
Quick Dip
Ingredients (serves 4)
1 tin Butterbeans, drained
1 cup Cooked Chickpeas
Roasted Red Peppers from a Jar + Water
1 tbs Mixed Herbs
Juice of 1/2 Lemon
1/2 tsp Paprika 
Garnish
Lots of Dipping Vegetables 
Method
For the bolognese;
Add the onion, celery, mushrooms, garlic & carrot to a ninja blender and blitz until fine.
Pre heat a large saucepan over a medium heat and add the blitzed vegetables.
Cook the mix for around 4-5 minutes, stirring often.
Stir in a pinch of pepper and the miso paste.
Add the dried mixed herbs, followed by the passata.
I add a touch of water to loosen the sauce.
Simmer the mix for around 10 minutes – stirring every now & then.
Add the lentils & tomato puree.
Allow the bolognese too cook out for a further 6 minutes, before serving with pasta.
Left overs can be refrigerated for 4 days, or placed in the freezer for up to 3 months.
For the pizza;
Pre heat your oven to 180 degrees C.
Place your tortilla's on baking trays, top with the pasta & colourful vegetables that you kids enjoy & some grated vegan cheese.
Place the pizza into your oven for around 13-15 minutes & serve.
For the dip;
Add the drained beans & chickpeas to your ninja blender with the rest of the ingredients.
Blitz until smooth then serve with you prepared dipping vegetables.
Dip can be kept in the fridge for up to 2 days.
Share this recipe