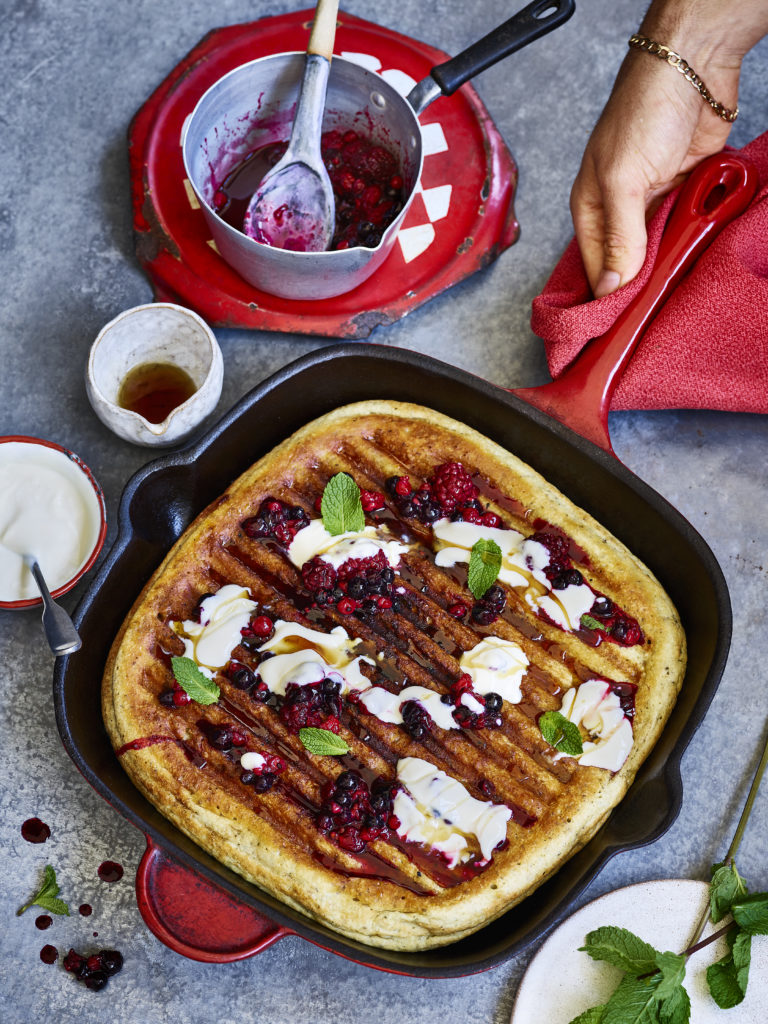 Ingredients
Waffles
2 cups/260g Self Raising Flour or Gluten Free Self Raising Flour
2 tsp Baking Powder
Pinch of Sea Salt
1 Ripe Banana
2 cups/480ml Creamy Non Dairy Milk
3 tbs Maple Syrup
2 tsp Vanilla Essence
1 tbs Chia Seeds
2 tbs Vegetable oil
Compote
2 cups/200g Berries, defrosted mixed berries from the freezer work best.
2 tbs Water
2 tbs Coconut Sugar
1 tbs Fresh Lemon Juice
Serve with
Couple tbs of Vegan Yoghurt
Few sprigs of Fresh Mint
Drizzle of Maple Syrup
Sprinkling of Seeds & Nuts
To a mixing bowl add Banana, milk, maple & vanilla essence. Using an old fashioned potato masher, masher the banana as much as you can to remove the lumps, stir in the chia seeds.
Sieve the flour, baking powder & salt into the banana mixture, then using a spatular gently fold everything together. Don't ever mix or your waffle won't be light and fluffy when cooked.
Pre heat your non stick griddle pan over a medium heat & pre heat your grill. Add a the oil to the pan and when its hot add the enough batter to cover to base of the pan, use a spatular to help spread the batter into the corners.
Allow the waffle to cook for 2-3 minutes, before placing the waffle under the grill for 8-9 minutes.
Whilst the waffle is cooking, add the compote ingredients to a saucepan. Place the saucepan over a low heat to bubble away until you're ready to serve.
After the 8-9 minutes, your waffle should have risen nicely and lovely and gold on top.
Remove the pan from the grill. Carefully remove it from the pan and cut into portions.
Serve with the compote, yoghurt, mint, syrup & a sprinkling of seeds & nuts.
Share this recipe