Sundried Tomato and Brocolli Penne Pasta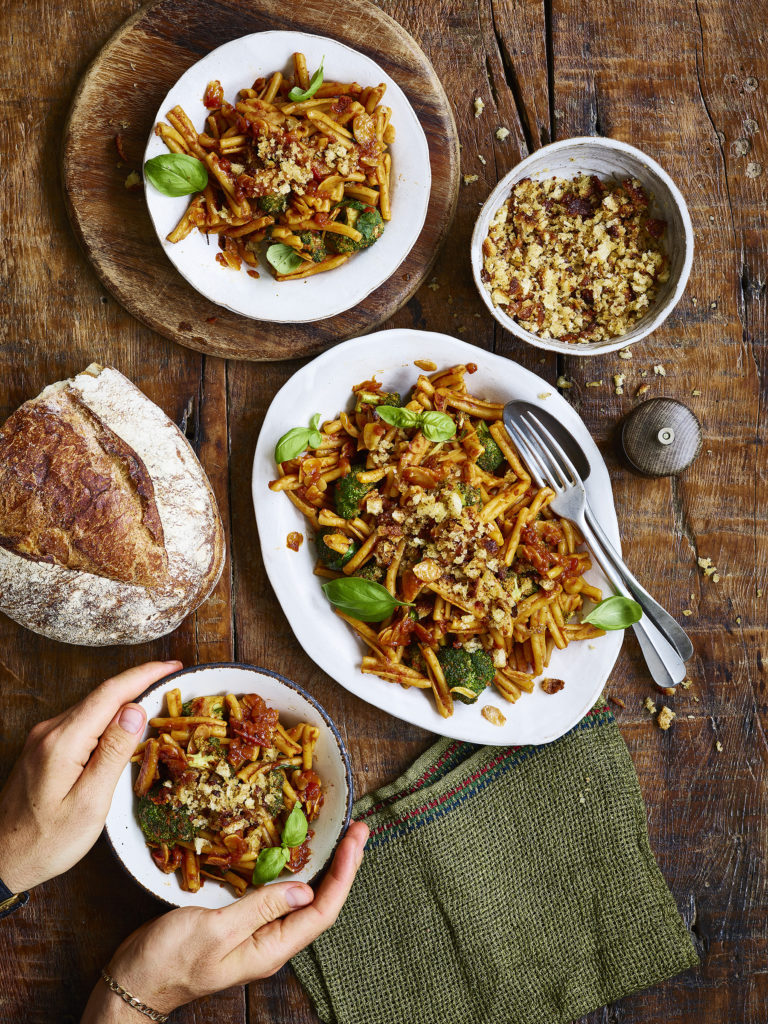 Ingredients
3 cups Dried Pasta
1 Head of Broccoli, cut into small florets
Handful Fresh Basil
3 tbs Flaked Almonds (or seeds for nut allergy)
2 tbs Olive Oil
Sauce
8-10 Sundried Tomatoes
1 tsp Dried Chilli Flakes
4 cloves Garlic, peeled
1 tbs Nutritional Yeast (optional)
2 tbs Tomato Puree
Zest of 1/2 a Lemon, juice of 1 Lemon.
Pinch Sea Salt
Pangrattoto
2 tbs Extra Virgin Olive Oil
2 cups Breadcrumbs
Zest & Juice of 1 Lemon
1 tsp Dried Garlic
Pinch Sea Salt
3 tsp Dried Mixed Herbs
To serve
Handful Fresh Basil, chopped
Pinch Cracked Black Pepper
Squeeze of Lemon Juice
First up getting your pasta cooking in salted boiling water.
Rehydrate the sun-dried tomatoes using a ladle of the pasta water for around a minute. Once they have slightly softened and them to a blender, with the rest of the sauce ingredients & a few tablespoons of the rehydrating water (reserve the rest of the water). Blitz the mixture until it's a smooth paste.
Pre heat a large saucepan over a medium heat, add a touch of oil followed by the broccoli and flaked almonds, sauté for a couple of minutes or until the almonds are golden. Add the sun-dried tomato paste to the pan & stir well making sure the broccoli is coated. Add the reserved rehydrating water and a little pasta water to make it more saucy.
Let the sauce and broccoli cook away for 3-4 minutes over a lower heat & stir every now and then.
Meanwhile make the crispy breadcrumbs aka pangrattoto. In a non stick frying pan placed over a low heat, add a touch of oil followed by the breadcrumbs, lemon, garlic, seasoning & herbs. Toast the breadcrumbs for a few minutes until they are nice and golden.
Once your pasta is cooked, drain away the water and add the pasta to the sauce.
Mix really well making sure all the pasta is coated. Add some black pepper, chopped basil & a squeeze of lemon juice.
Serve your pasta with plenty of the toasted breadcrumbs.
Share this recipe