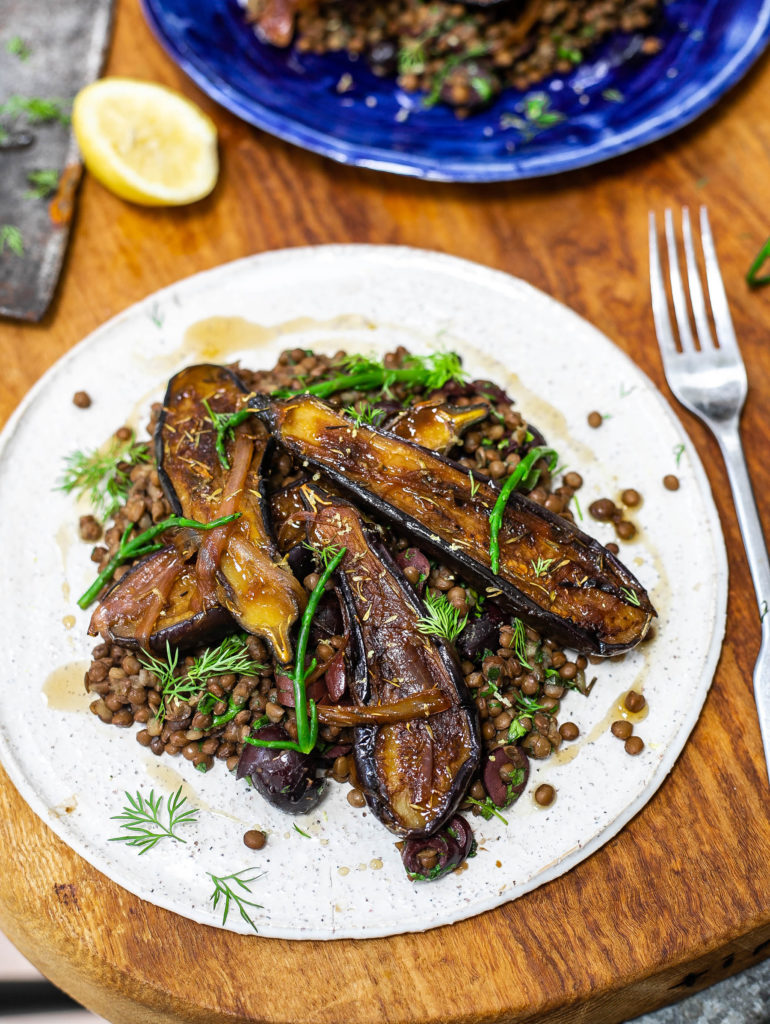 Ingredients
1 tbs Olive Oil, or a little water for oil free
8 Baby Eggplants/Aubergines, cut in half length ways, or 2 normal cut into wedges
2 Shallots, slice fine
3 Cloves of Garlic, sliced fine
Pinch Sea Salt & Pepper
1 tsp Dried Rosemary
3 tbs Balsamic Vinegar
3 tbs Soy Sauce or Coconut aminos (for soy free)
3 tbs Maple Syrup
1 tbs English Mustard
1 cup/240 ml Water
Lentils
1 can Lentils, drained
Zest & Juice 1 Lemon
Handful of chopped Fresh Herbs, I used mint, basil & parsley
Pinch Sea Salt & Pepper
Handful Black Olives
Serve with
Asparagus tips, steamed
Samphire, streamed (optional)
Pre heat a non stick frying pan over a medium heat and add the oil, place the aubergines into the pan cut side down, then add the shallots, garlic & seasoning. Let the aubergine go nice and golden for 2-3 minutes then flip over. Add the rosemary, vinegar, soy sauce, maple, mustard & water. Turn the heat down and let the liquid reduce down to a glaze like consistency for about 5 minutes.
Meanwhile mix all the lentil ingredients together in a saucepan, and place over a low heat to heat up gently.
Once the aubergines are glazed, serve with the lentils & steamed vegetables.
Share this recipe