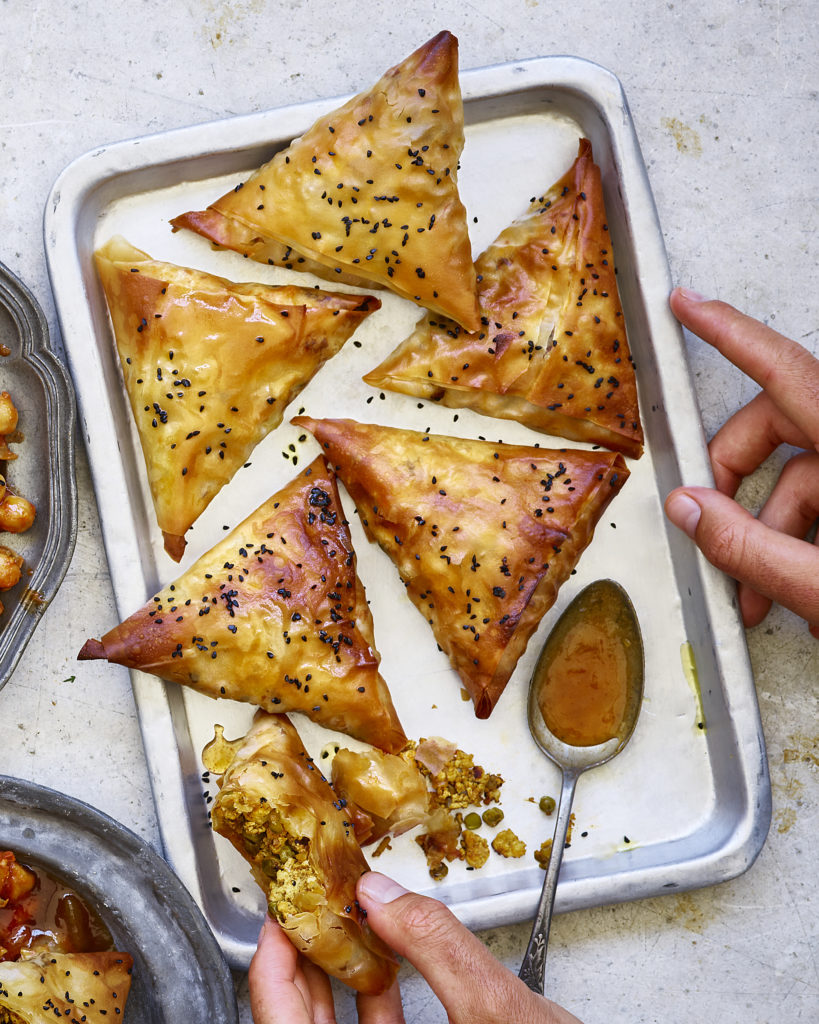 Ingredients
1 tbs Cooking Oil
1 Onion, chopped fine
1 Red Chilli, chopped fine
4 Cloves Garlic, minced
1 tbs Ginger, minced
2 tsp Ground Ginger
1 tbs Garam Masala
1/2 tsp Ground Fenugreek
1 tsp Sea Salt
1 tbs Tomato Puree
1 Large Block, EXTRA firm tofu, I recommend the brand Tofoo.
1 cup Frozen Peas
Handful Fresh Coriander, chopped fine
1 Pack Filo Pastry
1 cup Vegan Margarine
1 tbs Black Onion Seeds
1 tbs Cooking Oil
1 Onion, chopped fine
1 Red Chilli, chopped fine
4 Cloves Garlic, minced
1 tbs Ginger, minced
2 tsp Ground Ginger
1 tbs Garam Masala
1/2 tsp Ground Fenugreek
1 tsp Sea Salt
1 tbs Tomato Puree
1 Large Block, EXTRA firm tofu, I recommend the brand Tofoo.
1 cup Frozen Peas
Handful Fresh Coriander, chopped fine
1 Pack Filo Pastry
1 cup Vegan Margarine
1 tbs Black Onion Seeds
Method
Pre heat a large non stick frying pan over a low heat and add a touch of oil, when the pan is hot add the onion, chilli, garlic & ginger. Let the mix saute for 5 minutes before adding the spices & salt. Cook the spices for 2 minutes then add the tomato puree.
Next crumble the tofu into the pan & stir really well. Cook the tofu mix for around 5 minutes, try and get the tofu lovely and golden, so stir every now and then.
Stir in the peas and coriander, them turn off the heat.
All the mixture to completely cool before making the samosas.
Melt the butter in a small saucepan & cut the filo pastry in half length ways.
Cover the pastry with a damp kitchen cloth so it doesn't dry out.
Pick up a sheet of pastry and brush it with the melted margarine, then place another sheet on top.
Please see below video to learn how to fold the pastry, because I cant put my method into words HA! I feel like you need to see it to learn how to do it. Its very simple, I promise.
Once you've made your samosas, place them onto a lined baking tray and brush the tops with the melted vegan margarine.
Sprinkle over some black onion seeds.
Bake the samosas in a pre heated oven set to 180 degrees C, for 30 minutes, or until golden.
Serve with chutney.
Share this recipe