Serves: 7
Cooks in: 15 minutes + 2 hours chilling
Gluten free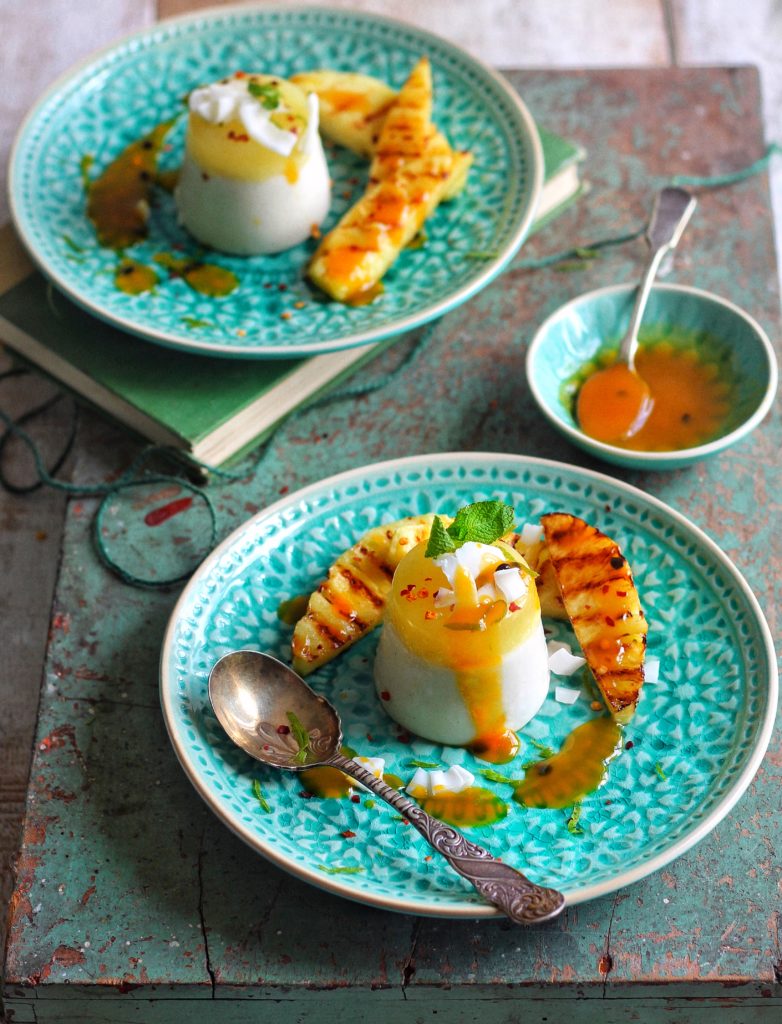 "Summer on a plate!!! This is a beautiful dessert which is so simple to make, inspired by a classic Hawaiian Sweet called a Haupia, I have added rum & vanilla for an extra twist"
Ingredients
Pineapple Jelly Topping
1 cup of Cold Water
1 tbs Agar Agar
2 tbs Unrefined Caster Sugar
2 Cups of Fresh Peeled Pineapple, blitzed to a liquid.
Panna Cotta
1 tin of Coconut Milk
1 Vanilla Pod
1 Shot of Vegan White Rum
1 Cup of Almond Milk
3 Heaped Tbs of Corn Starch
3 Tbs Unrefined Caster Sugar
Serving Suggestions
Grilled Pineapple
Sprinkle of Lime Zest, Dried Chilli & Mint
Toasted Coconut Flakes
First up make the jelly topping, add the cold water to a saucepan and stir in the agar agar. Heat gently whilst constantly whisking until the agar flakes have dissolved. Once dissolved add the blitzed up Pineapple juice and stir well. Transfer to a jug then pour into the moulds of your choice. Just a 3rd of the way full. Place them on a tray then into the fridge to set for 30 minutes.
Meanwhile, heat the coconut milk in a saucepan with the rum & vanilla pod (seeds extracted).
Separately, add the cup of almond milk to a bowl and whisk in the corn starch & sugar.
And the milk/cornstarch mixture to the coconut milk and continue to whisk over a low heat until the mixture has really thickened up. This should take around 5 minutes.
Top the jelly filled moulds with the Panna cotta mix then place them back in the fridge for around 2 hours until set.
Serve with Grilled Pineapple, Coconut Flakes, Chilli, mint & coulis.
Enjoy.
Share this recipe