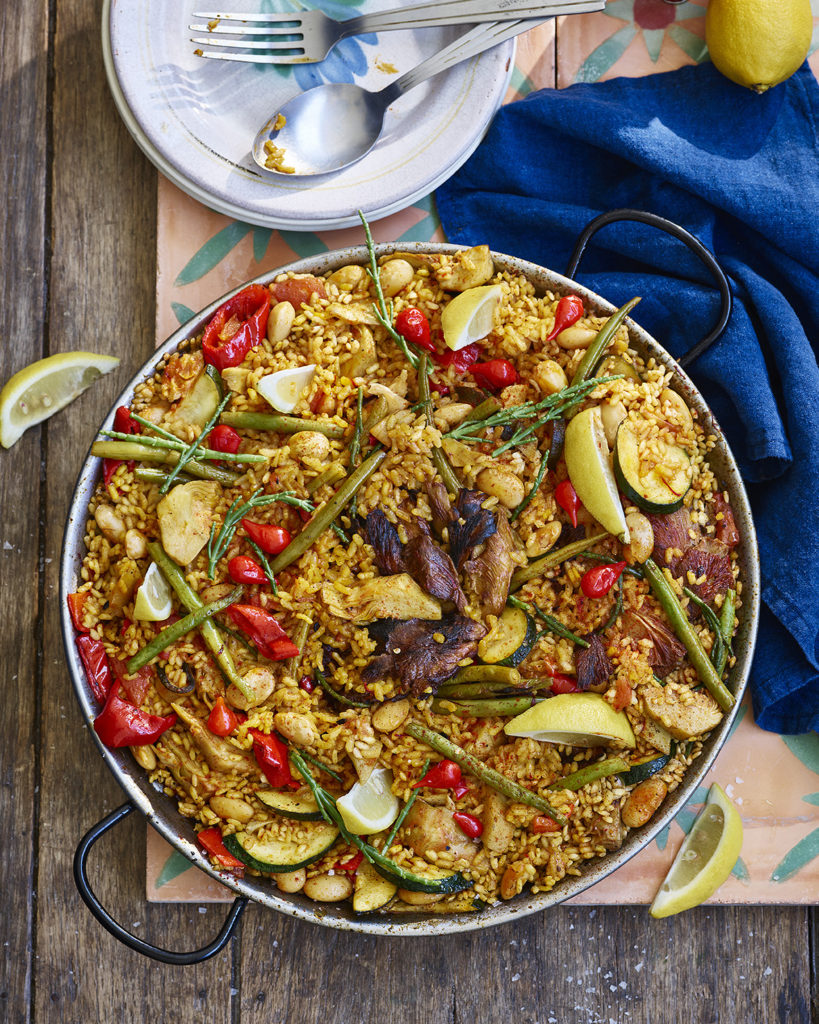 EPIC MUSHROOM MEAT PAELLA
Ingredients
2 tsp Sea Salt
3 tbs Olive Oil
5 Clusters of Oyster Mushrooms/750g of Mushrooms of your choice
1 tbs Chicken Seasning
2 Red Peppers, deseeded & sliced fine
Handful Green Beens, topped & tailed
1 Courgette, sliced into 1 cm discs
4 Tomatoes, peeled, deseeded & chopped small.
1 tbs Sweet Smoked Paprika
1 tin/can Butter Beans, drained & rinsed
1 cup/150g Cooked Artichokes, from a jar is fine
4 cloves, Roasted Garlic, chopped fine
approx 1 litre/4 cups Vegetable Stock
2 tsp Saffron, toasted, then mixed with a cup of water.
1 & 1/2 cups/300g Paella Rice
Zest & Juice 1 Lemon
3 tbs Tomato Puree
Garnish 
Zest & Juice 1 Lemon
2 Sprigs Rosemary
Grab a large heavy based non stick frying pan & place it over a high heat, add the oil. When the pan is smoking hot – add the mushrooms. It may look like the pan is over filled now but trust me they shrink a lot.
Grab another frying pan or saucepan thats slightly smaller than the mushroom pan & place it directly on top of the mushrooms.
It will flatten the mushrooms and make sure the are being seared completely. Leave the mushrooms for 4-5 minutes to cook, applying some pressure to the top pan, which will press the mushrooms squeezing water out of them, making them extra meaty.
This technique I picked up from a big inspiration of mine Derek Sarno. Check a the mushroom recipe we made together here.
After 5 minutes, remove the top pan & flip over the mushrooms. Place the pan back on top & cook + press for a further 4 minutes. 
Remove the top pan & sprinkle over the chicken seasoning mix, Place the smaller pan back on top, turn the heat down low & allow the mushrooms to cook for 10 minutes, flipping every now and then.
Meanwhile prepare your vegetables.
When the mushrooms have cooked heat your paella pan over a medium heat and add the salt followed by a touch of oil. When the pan is hot add the cooked mushrooms, followed by the courgette, peppers, beans & roasted garlic. Let the vegetables cook away for a couple minutes before sprinkling over the smoked paprika and adding the pealed tomato, artichokes & butter beans – mix well.
Next to the pan add the tomato puree + zest and juice of a lemon.
Mix well, then add the rice, try and evenly distribute it around the pan as best as you can.
Add some vegetable stock, as well as the toasted Saffron + water mixture (see tutorial video for tips).
Season the paella with more sea salt & then let it bubble away for 35-45 minutes, adding extra vegetable stock when ever the rice has absorbed the liquids. Move your pan around often to stop heat spots forming & give the pan a little shake every now and then.
After 35 minutes of cooking, check your rice is cooked by giving it a taste, if its still hard, cook the paella for a little longer. Often I turn the heat of & then top the paella with couple sprigs of rosemary and then cover it over with foil for the final few minutes of cooking.
Serve your paella with a final zest & juice of lemon.  
Please watch the video for extra handy tips! Gaz
Share this recipe