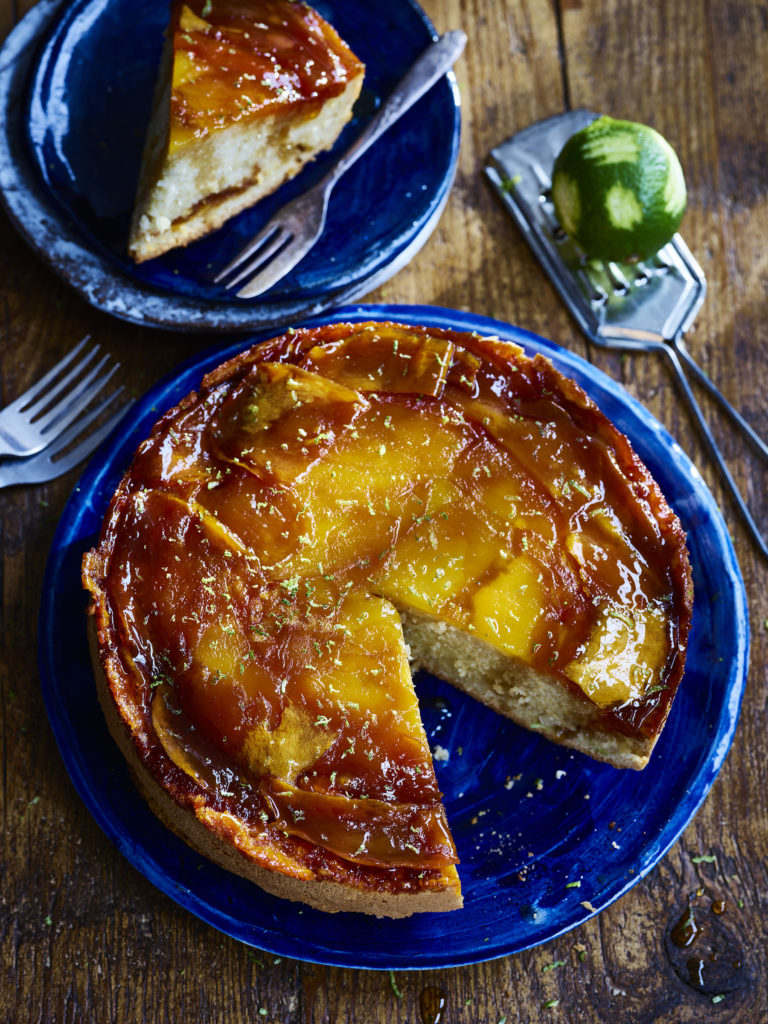 Ingredients
Topping
2 Mangos, peeled, and sliced into thin strips
5 tbs Caster Sugar
1 tbs Vegan Margarine
Wet Mix
1 & 1/2 cup/360ml Non Dairy Milk
2 tsp Vanilla Essence
1/2 cup/115g Vegan Margarine, melted
Dry Mix
3 cups/390g Plain Flour
3 tsp Baking Powder
Pinch Sea Salt
1 & 1/2 cups  Caster Sugar
Serve with
Fresh Mint Leaves
Zest of a Lime
Pre heat your oven to 180 degrees C and grease a 9" diameter sealed loose bottom cake tin. Make sure it definitely is a sealed one or the juices from the fruit will leak out.
To a saucepan add the caster sugar and margarine, place over a low heat & allow the sugar & margarine to melt into a caramel. This should take a few minutes, give it a little mix with a spatular from time to time. When the caramel is an amber colour, remove it from the heat – be careful not to leave it too long as it will quickly burn & turn bitter. Please also be very careful with the hot caramel, its extremely hot and can be dangerous.
Pour the caramel into your cake tin, covering the bottom completely if possible.
Neatly lay all the mango strips in the cake tin, starting with the edges first & working your way in.
Set the tin aside and quickly make your cake mix,
Combine all the wet ingredients together in measuring  jug.
In a large mixing bowl sift together the dry ingredients. Pour in the milk mix and fold together using your spatular in a figure of 8 motion.
Pour the cake mixture directly onto of the mango into the cake tin and give it a little tap on the surface to remove any air pockets.
Pop the cake into the oven on the bottom shelf to bake for 55 minutes, or until a skewer inserted into the cake and removed comes out clean.
Once the cake has cooked, allow it to slightly cool for 5 minutes before removing it from the tin.
Serve the cake with coconut cream, fresh mint leaves & little lime juice.
Share this recipe