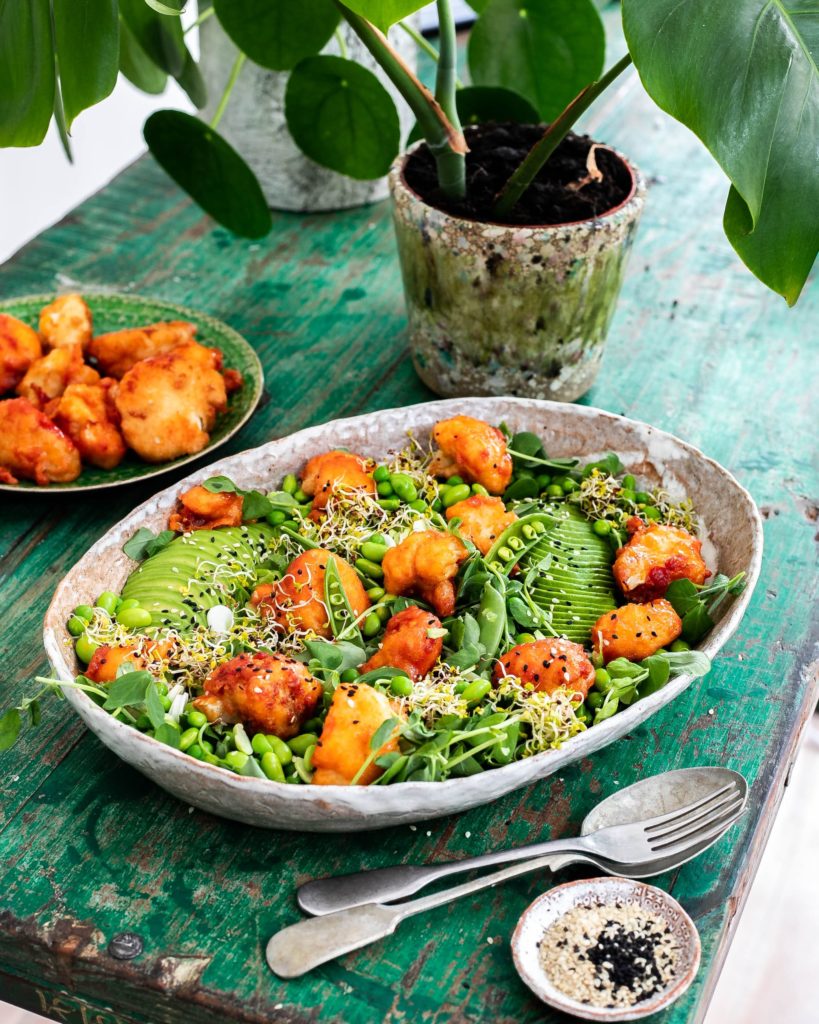 Buffalo style crispy vegan cauliflower bites made in just 15 minutes.
Ingredients
1 Head Cauliflower, cut small into florets
Batter
1 cup Cornflour
1 cup Vegan Non Dairy Milk
3 tbs Vinegar
1 tsp Sea Salt
1 tsp Baking Powder
500ml Vegetable Oil, for frying
Sauce
1 cup Orange Juice
1 tbs Tomato Puree
1/4 cup Sriracha
1 tbs Soy Sauce
2 tbs Maple Syrup
1 tsp Garlic Powder
Salad
1 Avocado, sliced
Mixed Lettuce Leaves
Toasted Cashew Nuts
Sesame Seeds
Radish, sliced
Edamame, shelled
5 Spring Onions, sliced fine
Method
Add all the sauce ingredients to a small saucepan and mix well. Place the pan over a low heat for 6 minutes to reduce down & thicken up.
Pre heat your frying oil in a large saucepan, making sure the oil fills no more than half way high. 
Whisk together the batter ingredients until smooth.
Check the oil is hot by dipping a wooden spoon in, if bubbles form around the wood then your oil is ready. 
Individually dip cauliflower florets into the batter then carefully place them into the oil, fry a few at a time, cooking for around 2-3 minutes or until golden.
Once fried, place them onto a plate lined with kitchen paper to drain away any excess oil.
Toss the fried cauliflower in the thickened glaze, then serve with your salad.
Share this recipe