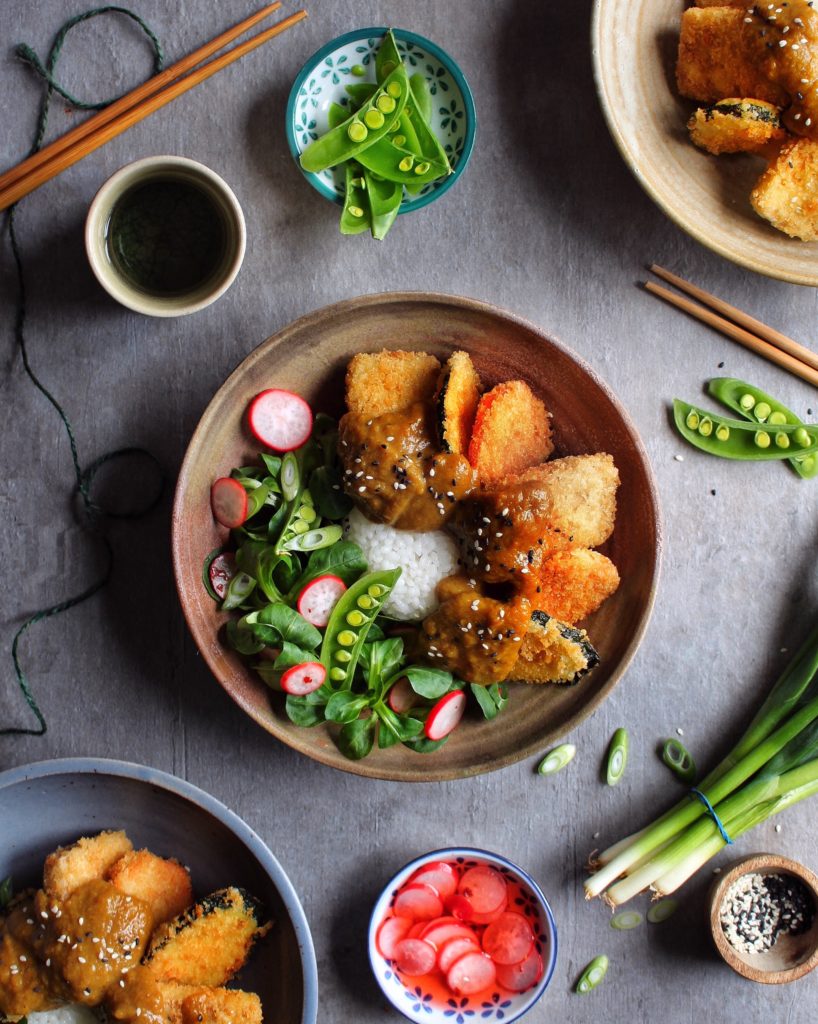 "One of my all time favourites, I love Katsu curry! The sauce is a beautiful mix between sweet & spicy with a bold flavour, use sushi rice to keep it authentic"
Ingredients
For the Panko coated Tofu, Squash & Zucchini
1 block (200g) of Firm Tofu Drained (cut into inch rectangles & excess water removed)
Squash & zucchini cut into evenly sized thin disks (width way)
50g flour
50g Cornflour + water
150g Panko Bread Crumbs
500-700ml Sunflower oil
For the Katsu Curry Sauce:
1 small Red onion Chopped  fine
1 small carrot chopped small
Half a Banana cut small
1 Tbs of Curry Powder
1 tsp garam masala
1/2 tsp chilli powder
400ml Veg stock
1 tbs of Tomato Purée
2 Tbs Soy Sauce
150g Sushi rice
Salad to serve
Mix the Cornflour in a bowl with enough water to make a thick sticky consistency.
In another bowl add the Panko breadcrumbs, and to a third bowl plain flour, individually dip the tofu, squash & zucchini into the flour then cornflour mixture making sure each piece is covered well then simply coat in the breadcrumb bowl. Once all pieces are coated set aside.
In a small saucepan fry the onion, carrot, banana, chilli & curry powder into softened. Add the stock & tomato purée. Allow to simmer on a very low heat. You may want to add soy sauce or salt for flavour + water if it becomes too thick.
In the mean time place the rice into a saucepan & cover with adequate amount of water and place on the stove to cook until sticky. Do not over cook as the rice will become soggy.
Heat the sunflower oil deep fat fryer. You will need to bring the oil to a temperature of approximately 170degrees Celsius. Please be careful if you are doing this in a wok. Once the oil is at the required temperature add your coated tofu, squash & zucchini in small quantities until golden brown. Then place on a paper towel to drain off any excess oil. Continue until all pieces are cooked & golden.
Once all the above is complete arrange in your bowls and garnish with a simple side salad, carrot & sprinkle over some spring onion, chilli.
Enjoy!
Share this recipe