Hot and Fruity 'Chicken' Curry – Indian Feast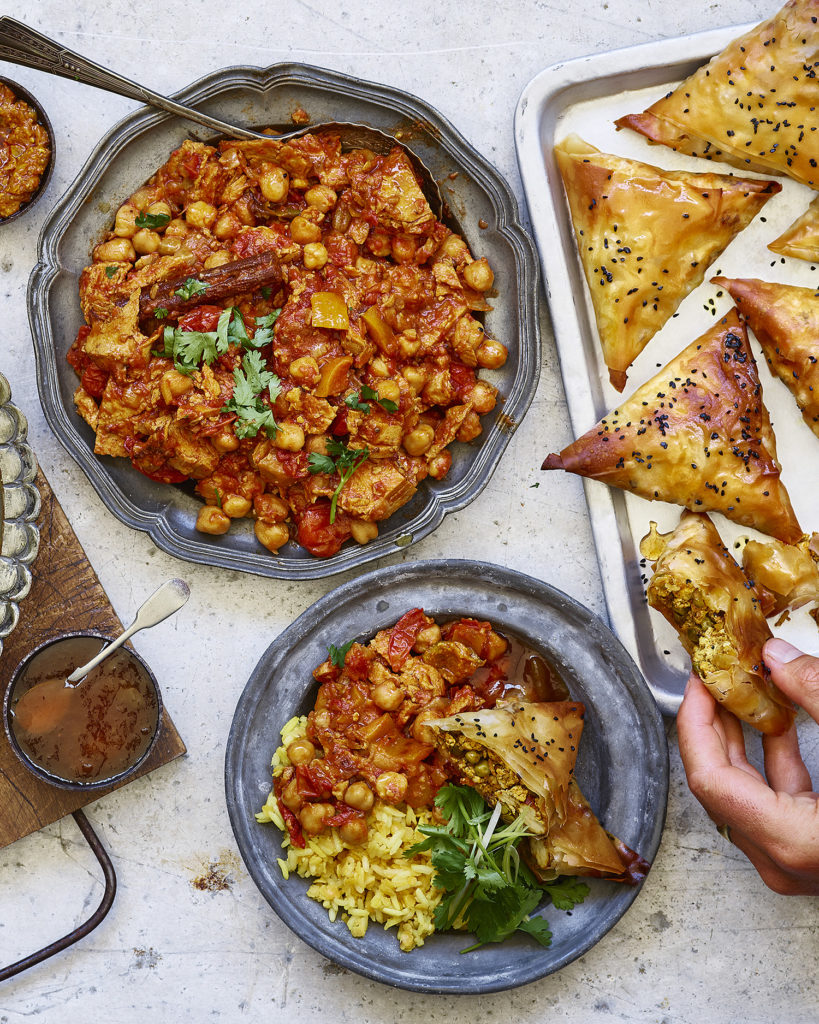 Ingredients
3 tbs Vegetable Oil
2 Cardamon Pods
4 Dried or Fresh Curry Leaves
1 Green chilli, cut in half length ways
1 Cinnamon Stick
1 Onion, peeled chopped small
1 tbs Ginger, minced
5 cloves Garlic, minced
1 tsp Mustard Seeds
1/2 tsp Turmeric
2 tsp Dried Chilli Powder
1 tsp Ground Cumin
1 tsp Ground Coriander
Pinch Nutmeg
2 tsp Sea Salt
2 tbs Tomato Puree/Paste
2 cups/200g Vegan Chicken, or vegan protein of your choice
1 can Chickpeas, drained & rinsed
2 Apples, peeled & cut into cubes, core removed
1 can Chopped Tomatoes
Handful Chopped Coriander
1 Ready to Roll Puff Pastry Block
A little Flour
Glaze
2 tbs Maple
2 tbs Olive Oil
2 tbs Non Dairy Milk
Serve with
Rice
Place a large non stick saucepan over a low heat and add the oil. When the pan is hot add the cardamon pods, curry leaves, cinnamon stick & green chill.  Let them infuse the oil & release their flavour for a couple of minutes before adding the onion, garlic & ginger & let everything cook for 10 minutes. It's important to let the onions go nice and golden this will release all their sugars, resulting in a lovely base flavour to your curry.
Once the onions are golden add all the spices and sea salt. Cook for a couple more minutes stirring often.
Add the tomato puree, vegan chicken & apple. Stir well so the chicken & apple have been coated in all the beautiful flavours.
Add the can of chopped tomatoes & about a cup of water (240ml) I just swill the can out with the water and add that.
Mix well then place a lid on the saucepan and let the curry simmer away for 20 minutes. Stirring every now and then.
After 20 minutes the curry should have thickened up, smell beautiful & the apples softened. Serve with rice, chutneys and samosas.
Share this recipe