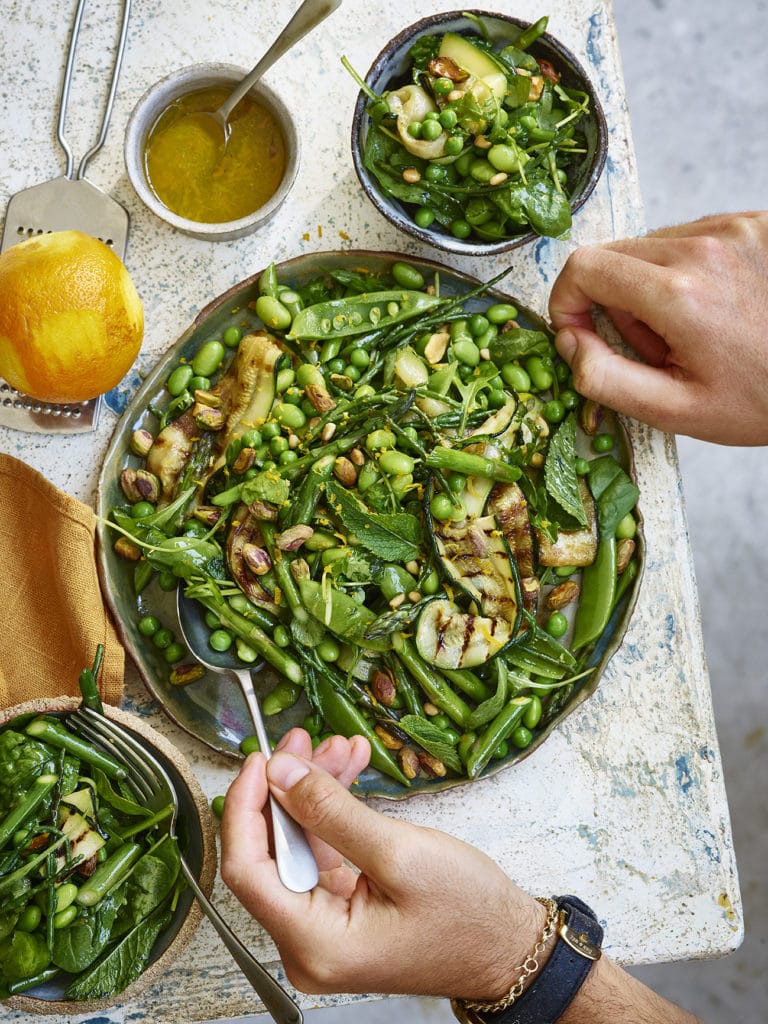 "This salad came about through my love for Spring/Summer ingredients, Asparagus, Samphire, Courgette, Watercress…the list goes on. The charring on the courgette gives the salad a new dimension of flavour..simply amazing!"
Ingredients
Salad Ingredients
1 pack/250g of Asparagus tips.
1/2 a cup/35g of Samphire.
1 Courgette/Zucchini, sliced very thin length ways.
1/2 a cup/35g of Broad Beans, I defrosted and peeled frozen.
1/2 a cup/35g of Peas, I defrosted frozen.
Handful of Fresh Mint Leaves
60g/3 cups of Fresh Watercress
1/2 a cup/35g Sugarsnap Peas.
2 tbs Toasted Pistachios
2 tbs Toasted Pinenuts
Dressing
Juice and Zest of Half an Orange
Juice of half a Lime
1 tsp Dried Chilli Flakes
2 tbs Rapeseed/Olive Oil
Pinch of Sea Salt
Pinch of Cracked Black Pepper
Method
First up, fill a large bowl with cold water and add a hand full of ice. Then set aside.
Bring a large saucepan of water to a rolling boil. Add a pinch of salt. Then add the Asparagus tips. Be careful not to over cook the Asparagus, so after 30 seconds add the Peas, Broad Beans & Samphire. 30 seconds later remove everything from the saucepan and quickly plunge them into the bowl of ice cold water. This stops them cooking completely. After a minute in the cold water, remove everything and set aside. You should be left with super green Asparagus, that is tender & has a beautiful bite to it.
Pre heat the a griddle pan and add a little oil, grill the courgette pieces on each side until charred nicely.
Meanwhile mix together the dressing ingredients in a small mixing bowl.
Once the courgette is grilled & dressing is made. Its time to construct the salad!
Grab a big mixing a bowl, add the Watercress, Mint, Sugarsnaps, Asparagus, Samphire, Beans, Peas, Nuts & Courgettes…basically add everything to the bowl! Drizzle over the beautiful dressing and give it a good mix.
Serve up on a big plate and dig in!
Enjoy, Gaz.
Share this recipe