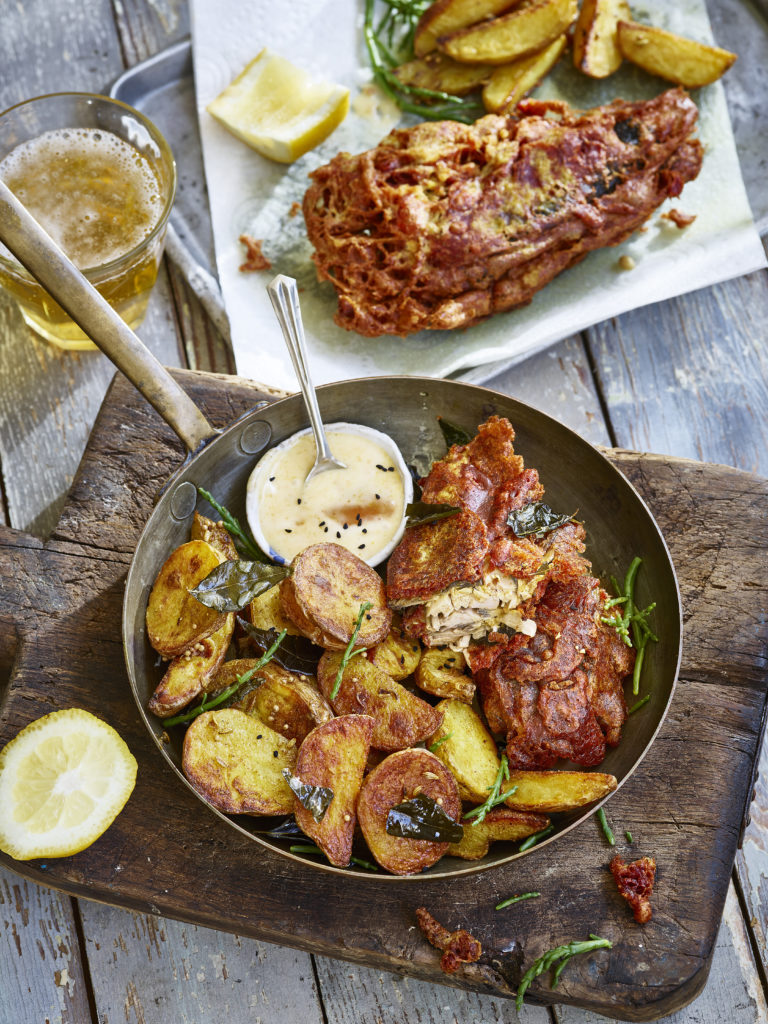 Ingredients
2 Cans Banana Blossom, drained & patted dry 
1 tsp Sea Salt
2 Sheets Nori
Half a Lemon Juice
Batter
1/2 cup/60g Plain Flour
1/2 cup/66g Tapioca Starch or Corn Flour/Starch
Pinch Salt
1/2 tsp Bicarbonate of Soda
1 tsp Baking Powder
1/2 cup/120ml Beer
1 tsp Curry Powder
1 litre Vegetable Oil, for frying
Chips
5-6 Maris Piper Potatoes, washed & cut into wedges
4 cloves of Garlic, crushed
1 tbs Fennel Seeds
5 Curry Leaves
1 tbs Curry Powder
Pinch Sea Salt
2 tsp Mustard Seeds
3 tbs Olive Oil
Mango Mayo
1 cup/226g Vegan Mayo
2 tbs Mango Chutney
1/2 tsp Curry Powder
Serve with
Fried Curry Leaves
Method
Pre heat your oven to 180 degrees C & line a baking tray with greaseproof paper. Add the wedges, garlic, curry leaves, curry powder, salt & oil to the baking tray and mix together well. Place the potatoes into the oven to cook for 35-40 minutes.
Meanwhile to make the fish element, cut the nori into pieces big enough to cover one side of the banana blossom fillets. You should get 4 fillets out of the 2 cans. I stack a couple blossoms together if they are on the small side.
Place the nori on the banana blossom, then drizzle over lemon juice, the lemon juice will help the nori attach to the banana blossom. Sprinkle over a little sea salt.
To make the batter, to a mixing bowl add the flour, starch, salt, bicarb, baking powder & curry powder. Whisk in enough beer  into the flour mix to make a pancake batter style consistency.
Fill a wok or large saucepan a 1/4 high with vegetable oil & place over a low heat. DO NOT over fill your pan with oil.
To check the oil is hot enough to fry, dip a wooden spoon into the oil and if bubbles form around the wood, it's ready.
Carefully pick up a fillet and dip it into the batter making sure it's well coated then place it into the oil slowly – DO NOT drop it from a height.
Only fry 1-2 fillets at a time for 2-3 minutes on each side. When the 'fish' is golden & crisp remove them from the oil using a spider & place them onto a plate lined with kitchen paper, to soak up any excess oil. Season with a little salt to keep them crisp.
To make the mayo, simply mix the ingredients together in a small mixing bowl
When the wedges are golden and crispy, serve up the fish & chips. I garnished mine with some fried curry leaves.
Please watch the tutorial video for extra tips.
Share this recipe