Creamy Mushroom Buckwheat Crepes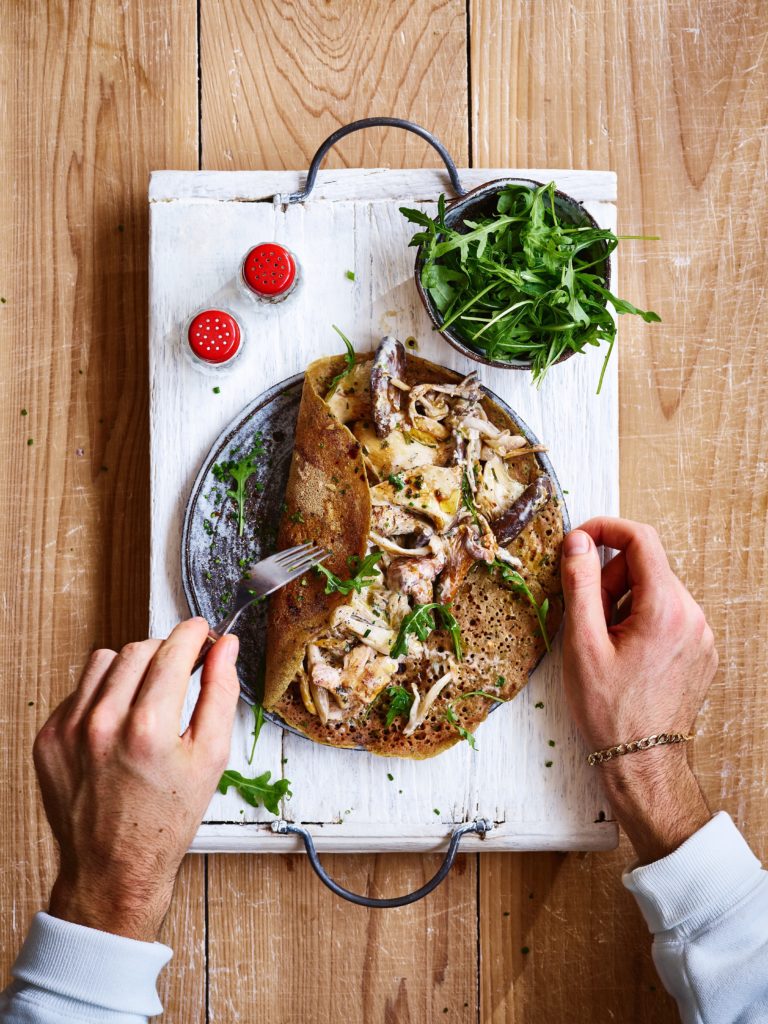 Ingredients
Crepes
3/4 cup/90g Buckwheat Flour
1 cup/240ml Non Dairy Milk
1 tsp Baking Powder
1 tsp Sea Salt
1 tsp Pepper
2 tbs Chopped Chives
4 tbs Vegetable Oil, for frying   
Mushroom Filling
1 punnet Mixed Mushrooms, chopped evening
2 tsp Garlic Granules
1 tsp Dried Chilli
1 tbs Dried Tarragon
1 shot Vegan Friendly Brandy 
1 cup Vegan Cream
2 tsp Sea Salt
1 tsp Cracked Black Pepper
Serve with
Mixed Seeds
Lettuce Leaves
First up, get the crepes goings.
In a mixing bowl add the flour, baking powder, salt, pepper & chives then mix well.
Pour in the non dairy milk & whisk everything together until its a smooth thin pancake batter style consistency.
Pre heat your large non stick pan over a medium heat and add a touch of vegetable oil. When the pan is hot, ladle in enough batter to cover the base of the pan. I use the back of my ladle to spread the batter out.
Cook the crepe for around 2 minutes on each side, use a pallet knife to help flip it over. Repeat the process until you've used up all the batter.
Whilst the crepes are cooking pre heat another non stick pan over a high heat. Add a touch of oil, followed by the mushrooms, garlic, chilli & tarragon. Sauté the mushrooms for 3-4 minutes, stirring often. When the mushrooms are golden, deglaze pan with the brandy, you may see a few flames when you add it – that's just the alcohol burning off.. exciting but please be careful.
A minute after adding the brandy add the vegan cream & seasoning. Let the creamy mixture come to a simmer for a minute then serve up.
Fill your crepes with plenty of the mushroom mixture, some salad leaves and a sprinkle of mixed seeds.
Share this recipe