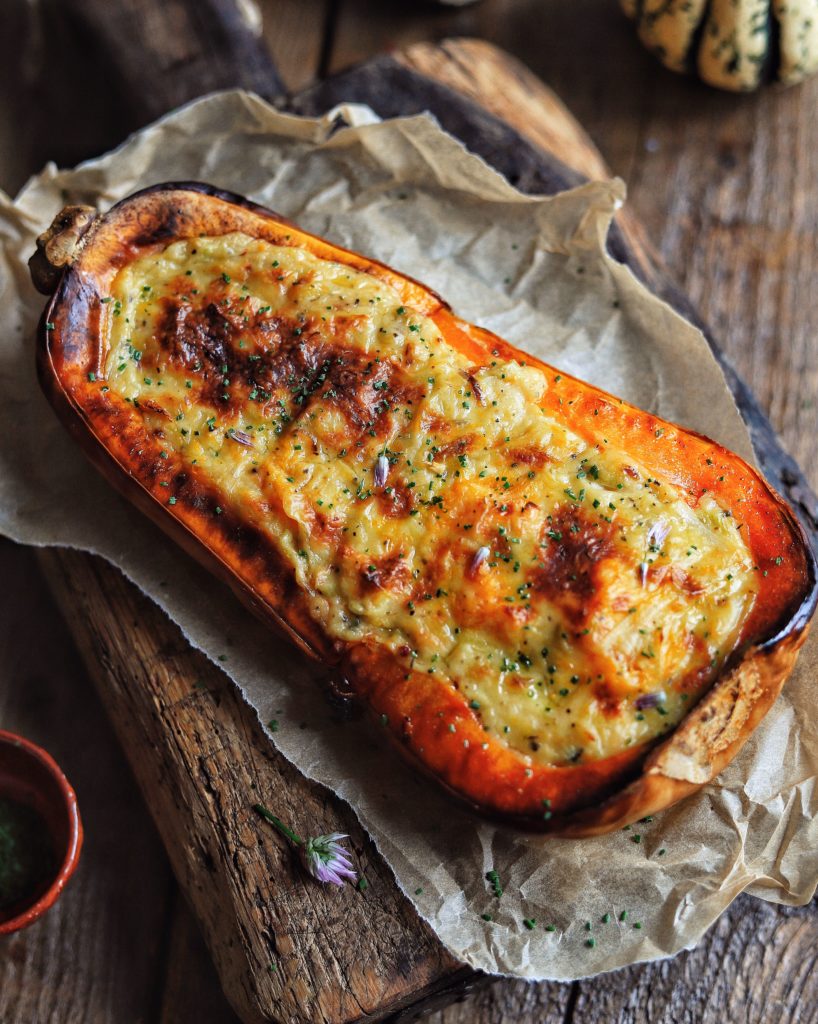 Here's my cheesy vegan stuffed squash, super tasty, indulgent & festive. The perfect #VeganChristmas food. I make a béchamel sauce to create a cheesy filling, thats stuffed inside the squash.
Ingredients
1 Butternut Squash, washed & halved length ways
2 tbs Vegetable Oil
1 Leek, peeled, washed & chopped fine
2 cloves of Garlic, minced
2 tbs Fresh Sage, chopped
Cheese Sauce 
1/4 cup Butter
1/4 cup Flour
3 cups Soy Milk/Cashew Milk
1/2 an Onion
1 Bay Leaf
Pinch Nutmeg
Pinch Sea Salt & Pepper
1/2 cup Grated Vegan Cheese
1 tbs Nutritional Yeast 
Serve with 
Sprinkle of Dried Chilli Flakes
Method
Roast the squash in your over set at 180 degrees C until softened, this should take around 40 minutes. Leave your oven once baked. 
Scoop out the squash flesh, leaving a cm of flesh around the edges. Set the flesh aside. Place the hollowed out squash halves on to a baking tray. 
Place the milk into a saucepan with the onion, bay leaf, nutmeg & seasoning, then place the pan over a low heat to infuse. 
In a medium non stick frying pan placed over a medium heat, add a touch of oil then sauté the leek, garlic & sage, for 3-4 minutes. Then remove them from the heat. 
In another saucepan add the vegan margarine and place the pan over a low heat.
When the margarine is melted, add the flour. Using a spatular mix well. Cook the mix whilst stirring for a couple of minutes to cook out the flour. It should resemble a paste like consistency.
Gradually whisk in the infused milk, a little at a time.
Once you'd added all the milk, the sauce should be creamy, if you want to make it cheesy, add vegan cheese & nutritional yeast.
Fold the leek mixture & some of the squash filling into the cheese sauce, then spoon the mixture into the hollowed squash halves. 
Bake the filled squash for 20 minutes or until beautifully golden.
Serve with a sprinkle of chilli flakes over the top.
Share this recipe