Best Ever Vegan Carbonara
Serves: 3-4
Cooks in: 15 minutes, if using dried pasta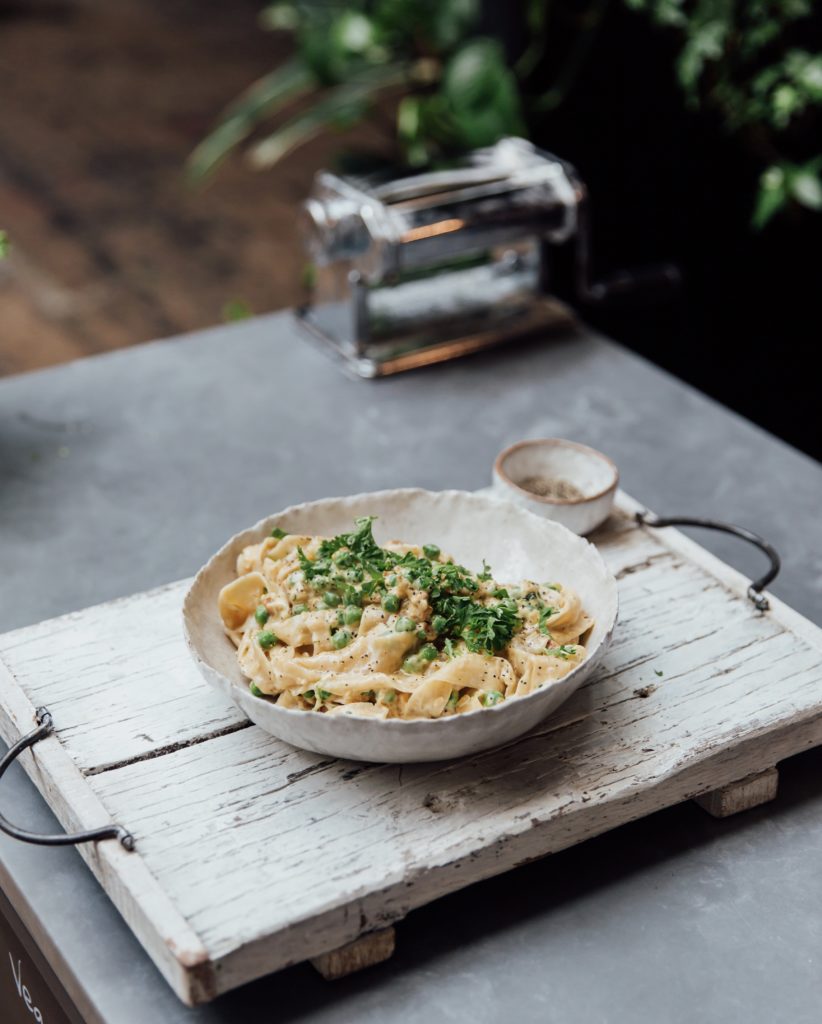 Here's my take on a classic Carbonara, VEGANISED!
Ingredients
Pasta
1 batch of my Homemade Pasta, recipe in my book
or
250g/8.8oz Dried Pasta (egg free)
Sauce
2 tbs Olive Oil
2 Shallots, finely chopped
2 cloves of Garlic, minced
100g/3.52oz Gaz's Bacon, cut into small cubes
Small handful of Fresh Parsley, lightly chopped
1 cup/240ml Vegan Cream
3 tbs Nutritional Yeast
1/2 tsp White Miso Paste
1 tsp Cracked Black Pepper
1 cup/150g Frozen Peas (optional)
Garnish
Fresh Parsley
Pre heat a large saucepan over medium heat & add the oil.
When the pan is hot add the shallots & garlic. Sauté until softened & lightly golden. Then add the bacon & parsley.
Bring a large saucepan of lightly salted water to a boil. Add your pasta and cook to the packet instructions.
Cook the mix whilst stirring for about 2 more minutes then turn the heat down low. 
Add the cream, miso, nutritional yeast & a pinch of seasoning.
Add the peas.
Let the sauce thicken for a few minutes.
Drain your pasta from the water & add it to the saucepan.
Stir the pasta making sure it's coated in the sauce.
Serve straight away with chopped parsley
Share this recipe