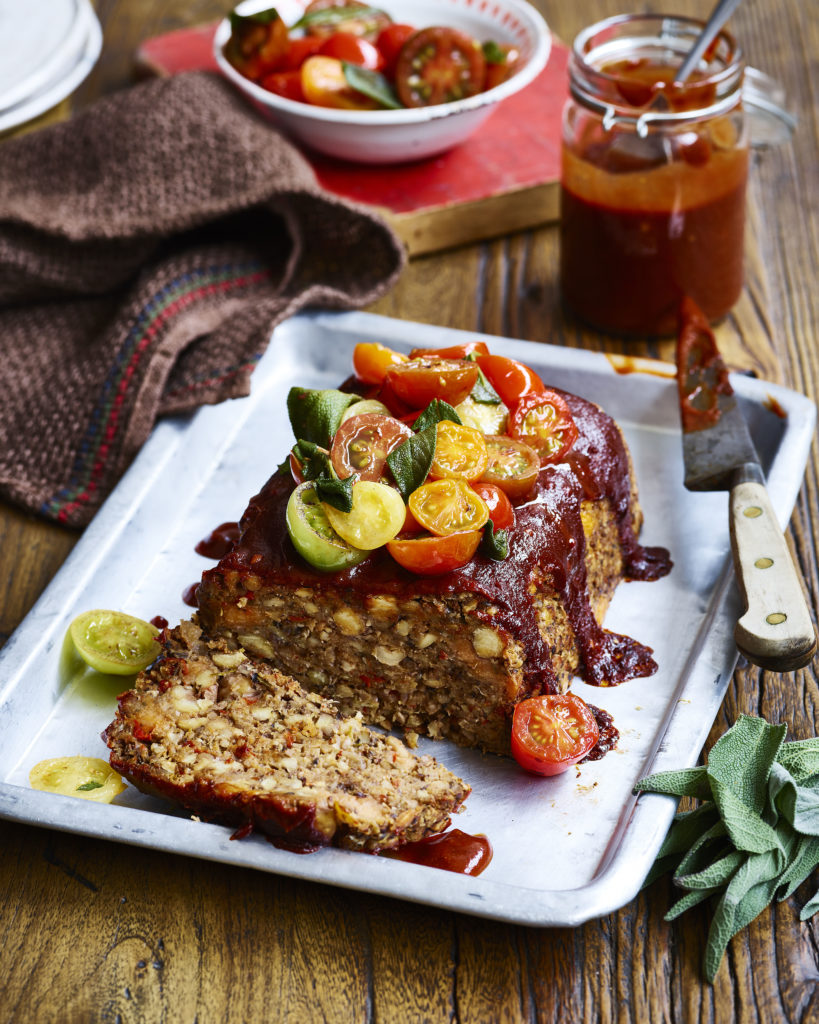 Just as good for a Sunday dinner centre piece or high protein meal prep.
Ingredients
1 & 1/2 cups/150g Sweet Potato, cubed & steamed
2 tbs Olive Oil
250g/approx 4 Portobello Mushrooms
1 Onion, chopped fine
3 Cloves Garlic, minced 
1 Red Pepper, chopped small  
2 tsp Dried Sage
2 tsp Dried Rosemary
2 tsp Dried Thyme 
1 tsp Cayenne Pepper 
Pinch Sea Salt & Pepper
1 cup/125g Panko Breadcrumbs
1 cup/125g Walnuts, blitzed (if allergic use, use something like pumpkin seeds)
1 can Chickpeas, water drained
Zest of 1 Lemon
BBQ Glaze
1 cup/230g Tomato Ketchup
3 tsp English Mustard 
4 tbs Balsamic Vinegar
1 tsp Smoked Paprika 
1 tbs Soy Sauce
3 tbs Coconut Sugar 
1 tbs Cumin
1 tsp Garlic Powder
1/2 tsp All spice
Pinch Sea Salt & Pepper
Garnish
Handful Fresh Sage, little sautéed.  
Punnet Fresh Cherry Tomatoes halved  
Preheat your oven to 180 degrees C. Line a medium-sized baking dish/loaf tin with greaseproof paper.
To a blender add the mushrooms and blitz until they are finely chopped. 
Place a large non-stick saucepan pan over a medium heat. Add the oil & when the pan is hot add the mushrooms. You want to saute them for around 5 minutes so that you get rid of some of the water inside them & get them nicely golden. 
Next to the pan add the onion, garlic & red pepper plus the herbs, spices & seasoning. Sauté the mix for 5 minutes, stirring often. 
When you've got a nice colour on everything add the sweet potato. Saute the mix for a few more minutes before adding the breadcrumbs, walnuts, chickpeas, and lemon zest. Stir until all the ingredients are well combined. Turn the heat off, then using an old fashioned masher, lightly mash the mix breaking down any large chunks of sweet potato or chickpeas.
Spoon the mixture into your lined loaf tin & compact it in as much as you can.
Place the meatloaf on the bottom shelf of your oven & let it roast for 40 minutes.
Meanwhile make that lovely bbq glaze, add all the ingredients to a small saucepan & mix well, place the saucepan over a low heat & let the sauce bubble away for around 10 minutes. Stir every now and then. 
Once your glaze has thickened, turn off the heat and set it aside until the meatloaf is cooked. 
Once your meatloaf has been in the oven for 40 minutes take that baby out. Let the meatloaf stand for around 10 minutes before placing a flat baking tray on top then carefully whilst holding the tray with one hand & the loaf tin with the other, turn the tray upside down so that the meatloaf comes out. Lift off the loaf time & peel off any greaseproof paper that's stuck. 
Pour lashings of bbq glaze over the meatloaf then place the tray into the oven for a further 10 minutes so the glaze caramelizes over the meatloaf.
Serve your meatloaf straight away. Topped with cherry tomatoes & sautéed sage or serve it up in your meal prep containers. The meal prep with last up to 4 days in your fridge.
Share this recipe