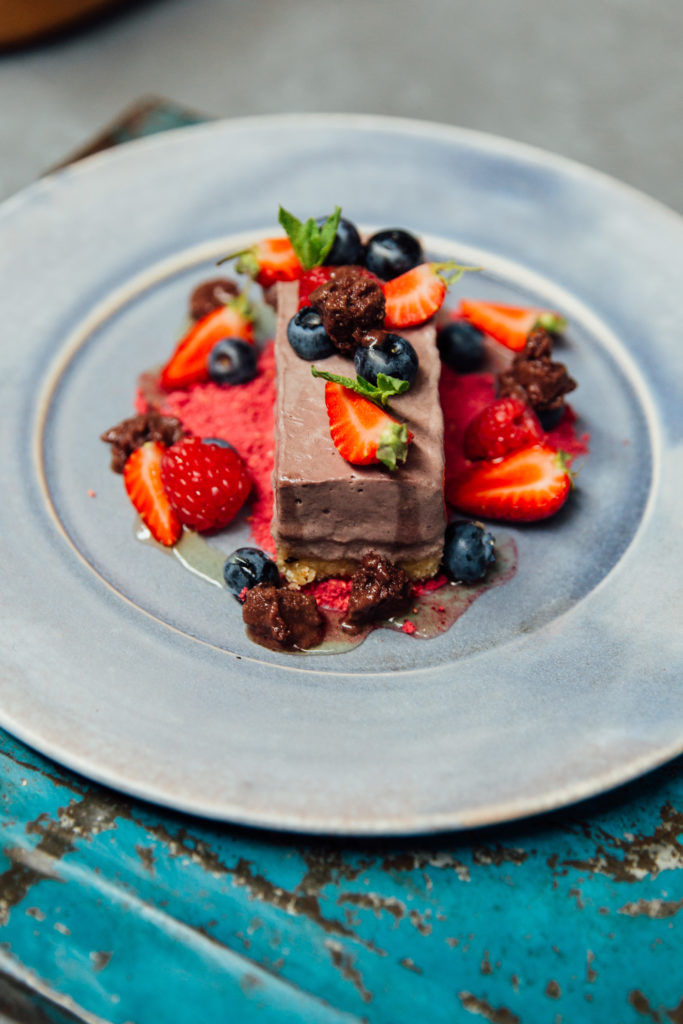 Ingredients
Base
1 & 1/2 cups/125g Ground Almonds
1/2 cup/70g Macadamia Nuts
1/2 cup/40g Pecans, plus additional for topping.
3 tbs Agave Nectar
3 tbs Coconut Oil
1 tbs Peanut Butter
Pinch Sea Salt
Filling
1 & 1/4 cups/170g Raw Cashews Nuts, soaked
1 cup/240ml Coconut Oil, melted
1 Frozen Banana, cut into small pieces
1 tin Coconut Milk
6 tbs Maple Syrup
2 tsp Vanilla Extract
4 Sachets Sambazan Açai Berry
Garnish
Berries
Fresh Mint Leaves
Frozen Açai
Freeze dried berries (optional)
Method
First up, make the base. Add all of the ingredients to a blender and blitz until the mixture is smooth and starts to combine. Spoon & compress the mixture into your moulds or cake tin to around 1cm (1/3in) deep. Chill in the freezer while you make the filling.
Grab two blender cups, and add half of the filling ingredients to each cup except the coconut oil. (if you only have one cup set half the ingredients aside and do it separately).
Blitz the mixture until smooth and creamy.
Pour the  mixture into your moulds/cake tin and place them into the freezer for a at least 4 hours to set. .
Remove the cheesecake from the freezer 20 minutes before serving to give you time to decorate it and for it to soften slightly.
A good way of getting the cheesecake out of the tin is to pour boiling water over a tea cloth and lay it around the cake tin/moulds for a few seconds, this will lightly melt the edges.
Decorate the cheese cakes with fresh berries, sambazon frozen açai, and freeze dried berries.
Share this recipe