Where it all began
Gaz Oakley is a 27 year old chef, author & youtuber originally from Cardiff, Wales UK.
After learning to cook a very young age with his dad, Doug. Cooking as well as sports became his early passions. He played rugby, football, did athletics & swam to a very high standard throughout school.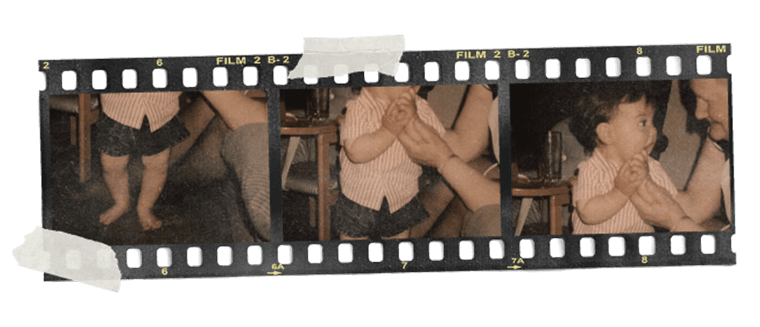 "Rugby was my earliest passion, I wanted to play professionally for my country. However when I wasn't playing sport at home I was cooking with my dad, going through the hundreds of recipe books & watching chefs on TV. I found cooking was an amazing outlet for my creativity.
I struggled in school, particularly with maths & English. I was much better suited in classes like art & P.E where I could be creative. When I could choose a specialist subject at GCSE I decided to take cooking.
The teachers knew I had been cooking a while at home. I was bringing along my pasta machine from home and making fresh pasta, ravioli  & tortellini the lot..whilst my class mates were either messing around or struggling to make a ragu – it was fun being a top student for a change."
Gaz, wanting to learn even more got his first part time chef's job age just 15 years old at a local hotel restaurant. He had a goal to be the youngest chef in the country with a Michelin star.
At 16 shortly after completing his GCSE's, Gaz left school to go full time at the hotel restaurant.
He recalls thriving in the kitchens, learning so much from the chefs around him & working lots of hours.
"Leaving school at 16 was tough, but I was so determined, I remember getting a scooter and travelling back and forth to the restaurant ever day. I worked long hours, my friends who I didn't see much any more were shocked.
I was like a sponge, soaking up as much knowledge as I could from all the chefs around me. It was a great place to learn. After a year or so working at the hotel, I was often left to run the restaurant myself – it was an amazing feeling"
After a few years at the hotel he decided it was time for a new challenge. One day he turned up at a renowned Cardiff restaurant called Le Gallois, it had big plans & was run be a hugely experienced chef.
Gaz plucked up the courage to knock on the door of Le Gallois and simply tell the head chef his goals in cooking & how he would work for free to show him what skills he had.
The head chef agreed & Gaz worked a weekend for free. A week or so later Gaz was given a job at Le Gallois.
"I remember I had my cv with me and a page full of pictures of dishes I had made. No doubt they looked pretty amateurish, but he must have seen how enthusiastic I was. I told him my goal of moving to Paris to learn French cuisine and how I'd work for free at Le Gallois to show him what I had.
Working at Le Gallois was so intense but the food we served was unbelievable. The Head Chef had so much experience and had worked all around the world. I learnt so much & was given the freedom to create my own dishes for the menu – I remember scrolling through trip adviser each night after work checking to see if anyone had written any reviews of my dishes – I was so passionate.
I often worked over 80 hours a week – and being in my late teens this was tough.
I remember starting at around 8.30am and working straight through to 11.30pm after a big lunch & dinner service.
Sometimes if we were lucky and didn't have to prepare much for the dinner service we could have a short break during the day, where often I would just go and sleep in my car. This was 5 often 6 days a week.
My cooking developed so much, but the pressure and hours really got to me."
After a while at Le Gallois, Gaz got offered a job at another well established restaurant which promised him a shorter working week & needing to recuperate, Gaz decided to accept. But sadly it wasn't to be.
He had brief spells over the next couple of years in other kitchens and started designing menus for restaurants and doing dinner parties.
"I never quite recovered from the long hours I worked in the kitchens. It's a tough career – no sleep, no social life, high pressured environment. Whilst all my friends were off at university. I was in the kitchens. I think If I was older I could of handled it better, I mean – I rarely ate or did exercise – I was a zombie and my parents were obviously super worried.
Needing a break, I got offered a job on a builders yard at the company my dad worked for & decided to do it. I needed a rest!
I started off at the company loading trucks but worked my way up. I didn't mind starting off at the very bottom – I was earning more money loading those trucks, despite working half the hours I used to as a chef. I often would make 'buckets' of soup for customers & staff, which would get rave reviews from everyone. I missed cooking a lot – I felt like I had lost a part of my personality & creativity"
Although it wasn't his passion – Gaz, being a very committed & hard working person – made light of his new job and actually worked his way up in the company and after a few years was a fully fledged sales manager, covering a large part of the UK.
"I was actually selling civil engineering products, securing huge orders for new housing sites. I made great relationships with customers & actually won salesman of the year at aged 23"
With his spare time back, Gaz got into exercise again – he started weight training & took up a typical body builders diet.
"It was amazing getting my social life back after working in kitchens for years. However I still wasn't 100% happy and was often trying to think of ways to express my creativity. I often thought about opening a little restaurant or deli.
In the evenings after work – I started weight training and wanted to bulk up, so was eating masses of food – a traditional body builders diet. Little did I know this was later going to turn me vegan"
Gaz worked out for a couple years whilst eating this colossal diet & put on a lot of weight. However he didn't feel to good. He put it down to the high amounts of animal protein he was eating & starting looking into veganism.
"I had this annoying stomach pain & it was occurring at a time when I noticed more & more information about veganism popping up on my social media feeds. I saw a few things that really planted a seed in my head.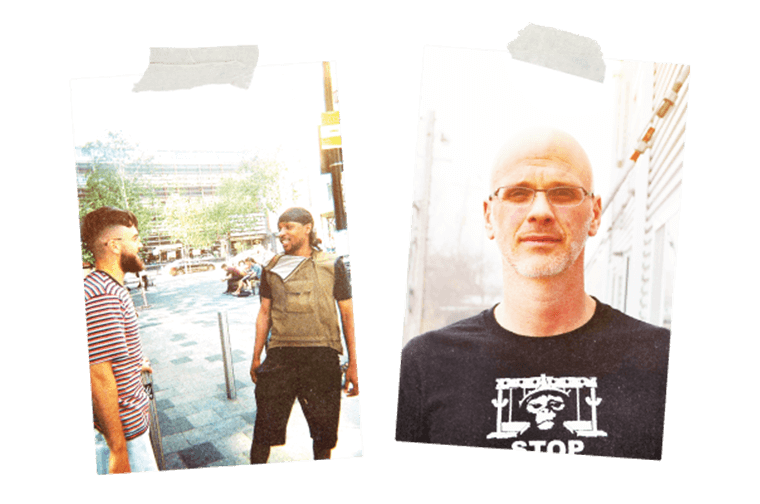 One day my favourite musician Jme was on the radio talking about what made him go vegan, he mentioned one youtube video that he watched which made him make the change overnight. It was a speech by Gary Yourofsky"
BECOMING VEGAN –
From the small amounts he'd seen on social media, Gaz started feeling guilty every time he was eating meat or dairy, he recalls one day simply having enough & deciding to sit down & watch the Gary Yourofsky speech.
"I was simply blown away – Gary Yourofsky gave me this awakening. He so articulately talks about the cruelty that is happening every single day to the animals on farms & in abattoirs around the world, the devastation that animal agriculture has on our planet & the damage eating animal products has on our bodies.
From that day on I knew I would be vegan for the rest of my life"
Wondering what to eat, Gaz instantly went into his kitchen and started experimenting.
"I remember eating my first vegan meal, it was like a weight had be lifted off my shoulders, no longer would I be part of the cruelty towards animals again. It tasted so fresh, vibrant & flavoursome.
After weeks of experimenting my passion for cooking was back!
I found the skills I'd learn as a kid and whilst in the professional kitchens enabled me to create the most incredible vegan food.
My mum & dad who I must thank for supporting me so much over the years, also decided to go vegan shortly after me. It was incredible"
Gaz wanting to do his bit of activism, started trying to persuade his friends & colleagues to go vegan.
"I tried saying things that Gary Yourofsky did in his speech, but it just wouldn't come out the same way, I've never been that great at talking & I found my peers would put up a 'brick wall' and not take any of it in.
One day I came up with a new idea to turn people on to the idea of veganism. I invited a group of friends over & made them the most amazing vegan burgers ever.
They were blown away, they didn't believe they were vegan & all said they didn't miss meat at all.
From that moment on, I knew that I had to use my cooking skills as my way of promoting veganism"
In February 2016, after many months of cooking for friends, recipe testing & experimenting. Gaz plucked up the courage to start his Instagram page @avantgardevegan with the hope of spreading his activism through food to a wider audience.
"I was very nervous starting my Instagram, I'm such a perfectionist & wasn't sure if my content was good enough.
At first I was uploading pictures of my food taken on my iPhone. To my surprise I started growing followers quickly and I was getting great feedback on my recipes.
I soon decided to upgrade to a proper camera, which took a lot of getting used to. Often the food in front of me looked great but the camera just wasn't capturing it.
So I spent as much time as I could on YouTube watching photography tutorials. I knew that my food styling skills combined with good photography would be a winner… I just had to somehow understand the 1,000 buttons on the new camera.
I knew that the more beautiful the food looked the more people I would reach – spreading veganism as far and wide as I could"
Before he knew it, Gaz had people following his Instagram from all around the world & his pictures were getting lots of likes & recipes we often being recreated.
"I spent a lot of time at home, taking over my parents kitchen, when really I should of been out selling civil engineering materials!
Spreading veganism became my passion & I knew I had to take it more seriously. I was a lot less happy in my job & at the time I had reached 7000 Instagram followers. I thought I had something & decided to go for it"
In May 2016, Gaz left his sales job & decided to devote all of his time to cooking & his activism.
Over the next few months, Avant-Garde Vegan went from strength to strength. The following grew & Gaz started doing pop up dinners at restaurants & often had stalls at vegan festivals.
"Following my passion & getting back into proper kitchens was awesome. Feeding people my peaceful cruelty free vegan food was the best feeling ever"
Gaz reached 35,000 Instagram followers in November 2016 & decided he needed to take his activism further.
Avant Garde Vegan youtube was launched in December 2016.
"I knew just sharing food pictures & written recipes wasn't enough, I had to physically show people how to make my food. I was creating all these incredible dishes using ingredients like seitan which I learnt just through trial and error. There weren't any outlets, no vegan tv cooking shows, hardly any youtube videos. I knew I had to fill that gap to help people.
However I forgot how camera shy I was. The first season of videos I filmed was a real struggle, and the videos came out very bad – I hardly smiled!!
But as much as my performance was bad the recipes got a good reception and I figured how important these videos could be, so I just got on with it and slowly started to relax and feel more comfortable. After all I'm just doing what I love…cooking"
Gaz has now completed over 11 seasons of recipe videos, has over 1.05 million subscribers based all around the world & his youtube videos have a combined total of nearly 40 million views.
"Youtube was so tough in the early days. Firstly I didn't like how I was on camera, I was so shy and secondly it's was so expensive to produce the type of videos I wanted to put out and at the time I was broke. So broke in fact, I filmed my first videos in an Airbnb I found (I didn't tell the owner lol!).
But I got through those tough times and now my youtube has turned into something so brilliant, it's now my pride and joy.
I put in so much effort into my videos each season, constantly trying to improve. I am now able to hire a kitchen studio, which is my dream kitchen. I have a full film crew – including a make up artist, which is definitely needed when the big lights come out! I have two lovely friends come a long to assist me preparing the food for each recipe. My photographer Pete comes along. I even hire beautiful ceramic plates and bowls to match up to the food I'm making. Every little detail is thought out. From my clothing to the in door plant arrangements. However I still leave in my stutters & many mess up's. I'm not perfect, I never will be.
Seeing the reaction to my videos & food is worth all the early struggles & is very similar to the amazing feeling I got when I would see a nice review of my food during my time in the professional kitchens.
People tell me often that I inspired them to go vegan and that's simply why I do what I do"
Gaz released his debut cookbook #Vegan100 in January 2018. He celebrated the launch by doing a pop up 5 course dinner at London's famous Harvey Nichols store. Which sold out with in 30 minutes.
During the dinner he expressed his plans to help people at Christmas, a time that vegans often struggle with. He announced that he would bring out a 2nd cook book in October 2018 called #VeganChristmas.
"Writing my first cook book was an unbelievable feeling, #Vegan100 is filled with all the recipes I had created between the first day I went vegan up until the day I handed the book text in. I wanted to make sure there was something in there for everyone & packed with dishes that will appeal to non-vegans. If I get them interested & cooking my food then it will be less people eating animals. 
I cook and style all the food for every single food picture that goes into my books. Simon Smith shoots the pictures and we have the most amazing time. 
Vegan 100 is sold worldwide & translated into 5 different languages.
I never thought I would release two cook books in my lifetime let a alone 2 in one year, but when I was sharing my Christmas recipes on my youtube in 2017, I realised how needed they were. So I began writing a vegan Christmas book.
Christmas I believe, should be a time for peace & I think our dinner tables should reflect that. I hope my Christmas book really helps people at a time of year that is so food and tradition centred"
Gaz did a big book tour at the end of 2018, travelling from Indonesia where he did cooking demos, to Canada, America & back to the UK where he did a tour there.
"I get very nervous before the live cooking demos & public speaking events, I definitely didn't get into this for that particular type of attention but I'm embracing it & like with my early struggles with filming, I'm starting to relax & enjoy the public appearances. I feel so genuinely lucky & grateful to be able to travel & share my knowledge and passion. A highlight was Montreal Vegan Festival where I cooked in front of 700 people and then signed their books for about 4 hours after.
My tour across Canada, US & UK was completely full to capacity & cannot believe so many people turned up to hear me talk, see me cook, meet me & get their book signed"
Gaz has also recently became executive chef at a London vegan burger restaurant, The Vurger Co. He designs new burgers & dishes for their menu.
One of Gaz's biggest achievements to date is doing 2 collaborations with Wagamama, the Japanese inspired restaurant chain. He created the dish named 'Avant-Gard'n' with them which rolled out at their London Noodle Lab restaurant & both Cardiff restaurants. The dish features Gaz's delicious vegan egg creation, amongst components like sticky bbq glazed seitan & caramelised king oyster mushrooms. He also recently created a dish for Wagamama US, the sticky asian bbq vegan ribs.
"I have dreams of opening my own restaurant & one day I will but, in the meantime, to give people the chance to taste my food at restaurants before opening the doors to my own restaurant is awesome. Working with the guys at Vurger is so fun. Vegan burgers are an incredible way to introduce vegan food to people, which is why I like to pull out all the stops when I'm creating recipes for them.
The Wagamama collab is one of the best things that has happened to me. For a mainstream restaurant like Wagamama to give me the opportunity is just unbelievable. What's even more unbelievable is the fact that the dish features things like my vegan egg & bbq glazed seitan. This is really proving veganism is getting into the mainstream.
I have been a fan of Wagamama since I was about 8 years old when my dad brought home their cook book. Now their servers are walking around wearing Wagamama x Gaz Oakley t-shirts. It's hard to believe"
Gaz has big plans for 2020. He's going to use his platform to continue trying to take veganism into the mainstream & showcase his other interests such as sustainability, fitness, mental health, travel, fashion & music.
Gaz's 3rd cookbook Plants Only Kitchen, releases in April 2020 & is filled with protein packed simple recipes.
Gaz has mentioned that when he reaches the milestone of 1 million youtube subscribers he will announce his first restaurant.
"I want to say a huge thank you to all of you that have supported me since I started doing this. Your kind messages and feedback make all the hard work worth while. 
To my incredible family thanks for letting me take over the kitchen, for looking out for me when times are tough & the constant love & support.
I really want people to know that anything is possible. I never thought I would be in this position. If you put your mind to something you can do anything you desire. Discipline = Freedom. Your hard work now will one day pay off in the future.
I'm going to keep on going on this journey for as long as possible, to help inspire as many people as I can to go vegan, for the animals.
Big Love, Gaz"